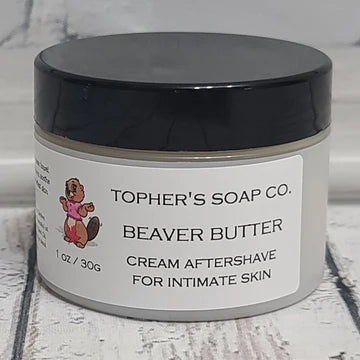 Topher's Beard and Soap Company- Beaver Butter- Ladies Intimate Cream Aftershave
All ladies know that razor burn and irritation is a thing after you shave or wax tender areas. This will keep your newly bare skin and any hair that may remain soft and moisturized. Their blend of Shea butter and skin loving Hemp, Hazelnut and Avocado oils for moisturizing and Babassu oil for it's cooling effect will leave you with a very soft and happy Beaver.
Quality natural ingredients paired with their essential oil blend all have their place in the end product, there's no added fragrance or skin drying chemicals. The Shea butter and carrier oils are present for skin and hair conditioning and repair, as well as rejuvenating skins elasticity and moisturizing freshly shaven or waxed skin. The essential oil blend helps to avoid unsightly skin bumps and ingrown hairs as well as act as an antiseptic for any small nicks or abrasions due to hair removal.
Sensitive & intimate areas are tender and should be treated as such.  Good for underarms and eyebrows too, pretty much anywhere that may get waxed, sugared or shaven.
How to butter your beaver: Pat shaven area dry. massage a thin layer to shaven area to soothe irritations and razor burn, while conditioning any remaining hair and replenishing moisture to your softest skin.  
Ingredients: Shea Butter, Babassu Seed,  Oil Bees wax, Avocado Oil, Hemp Seed Oil, Hazelnut Seed Oil, Calendula Extract, Vitamin E, Essential Oils and/or Phthalate, Paraben + Sulfate free fragrance oils sourced in North America, Rosemary Extract
1oz/30g in size.
Test on skin before use, may contain allergens.
Made in Canada