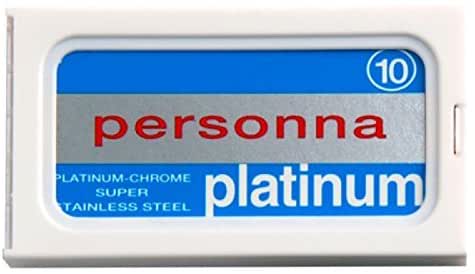 Personna Platinum Double Edge Blades
Each pack comes with 10 Personna Platinum Chrome Double Edge Safety Razor Blades.
The platinum coating on the edge ensures a particularly smooth feel with each pass of the safety razor. 

Personna blades have been safely shaving gentlemen since 1875. 
In 1875 the Kampfe brothers applied for a patent for their new hair removal invention, coining the term "safety razor" and starting a shaving revolution that continues to this day. Unlike the straight razors of the past, which are cumbersome, difficult to maintain, and has an exposed edge, the Kampfe's Star Razor included a safety guard that served to both protect the shaver from the bare blade and to help them achieve the optimal shaving angle. The brothers formed American Safety Razor to market their products, molding the company into a dominant player in the early 20th century shaving market with their Ever-Ready brand and acquisitions of other major brands such as Gem, Pal, and Burma Shave.
In the coming decades, ASR added industrial and medical blade products to its portfolio and continued to innovate in wet shaving, achieving a number of firsts in North America and worldwide including the first stainless steel razor blades, the first guarded blades, the first female disposable razor, and the legendary tungsten steel double edge blades that remain a highly sought after collectors' item to this day.
In late 2010, ASR was acquired by Edgewell, the owner of the Schick and Wilkinson razor brands. It is now known as the Private Brands Group – a division of Edgewell Personal Care. Today, Private Brands Group produces over two billion blades each year.
Made in the USA