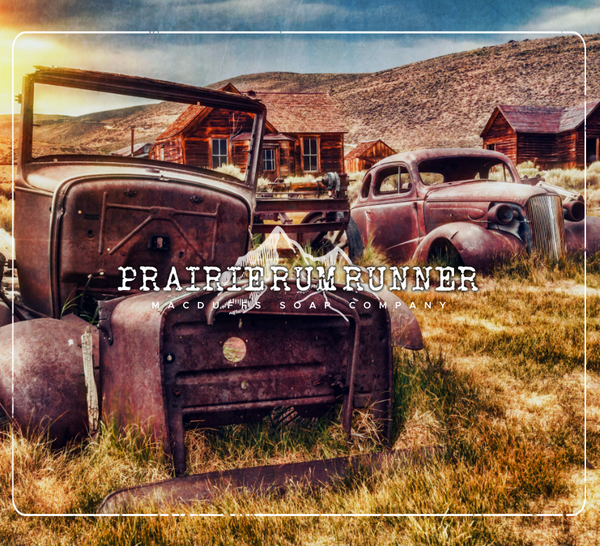 MacDuff's Soap Company Aftershave- Prairie Rum Runner
Notes: West Indies Bay, Bay Laurel, Tobacco, Allspice, Ginger, Citrus Blend, Patchouli, Cedarwood, Oakmoss, Basil

"All roads lead to rum" - WC Fields
Prairie Rum Runner finds inspiration in the rum runners of southern Alberta, who defied Alberta's brief period of alcohol prohibition at the turn of the 20th century. Since this is far removed from the nautical associations of a traditional bay rum, Sean introduced a blue collar "prairie outlaw" theme to the scent through a good dose of tobacco, supported by hay absolute, patchouli and a slight hint of oakmoss.
The opening notes feature a citrus blend of wild orange, two kinds of lime each with their own nuance (Tahiti and Persian) and curry leaf essential oils. If that sounds unusual, curry leaf smells like a woody and unsweet version of lime and sits in the blend nicely.

There are two kinds of bay leaf here: West Indies bay--which leans towards a clove and allspice aroma--and the more camphorous laurel bay leaf that is now more common. Allspice and ginger accentuate the bay leaf; the presence of basil lends an interesting herbal touch.
About Their Splash
Alcohol free witch hazel and aloe vera based splash

Organic Jojoba oil and glycerine help the skin retain moisture (emollient).

Uses Olivem, which is a water-soluble fat with sebum recovering activities (sebum is the oily, waxy substance produced by your body's sebaceous glands). Olivem has strong emolliency and lubricant properties that offers a distinctive skin smoothness and long-term moisturizing effects.

DL-Panthenol, or Vitamin B5 is used to rehydrate dry, damaged skin

Hydrolyzed Oat Protein* and silk peptides enhance the moisturizing properties of their splash and imparts a velvet-like smoothness after drying.

Allantoin is widely used in cosmetic, dermatological and pharmaceutical formulations for its soothing and anti-irritating properties. Allantoin stimulates healthy, normal tissue formation even at low concentrations.

Grapefruit Seed Extract and Vitamin E are antioxidants that extend the life of their splash, but also have beneficial moisturizing properties.

White Willow Bark is an astringent.

All of their fragrance oils are paraben and phthalate free.

As this is a water based product, they must use preservative to keep their aftershave splash free from bacteria and mould.
*The manufacturer states that the product is gluten free however because it is made from the proprietary hydrolysis of oats, there may be traces of gluten remaining. The manufacturer has tested several lots and all contained less than 20ppm gluten.
Ingredients
Witch Hazel, Aloe Vera Juice, Glycerine, Polysorbate 20 (Emulsifier), Olive Oil PEG-7 Esters (Ecocert Emulsifier), Organic Jojoba, Preservative (Propylene Glycol (and) Diazolidinyl Urea (and) Iodopropynyl Butylcarbamate), White Willow Bark, Sodium Lactate, Grapefruit Seed Extract, Silk, Hydrolyzed Oat Protein, Vitamin E, Allantoin, Vitamin B5 (DL-Panthenol), Paraben + Phthalate Free Fragrance Oil, Essential Oils
Made in Canada