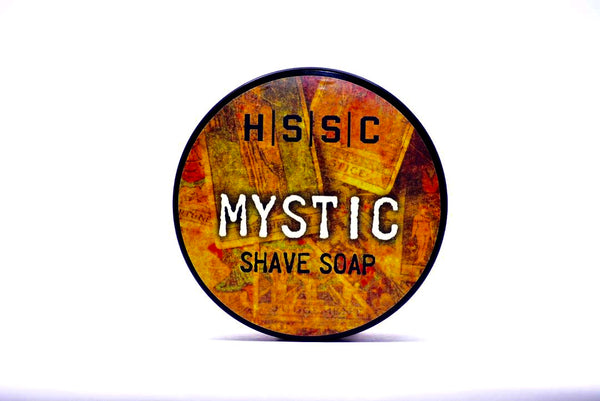 Highland Springs Mystic Shave Soap
Step into the enigmatic world of the unknown. 
A foggy night on the shore of a moonlit lake; a dark stranger trailing through the mist ; a deserted city whose only inhabitants are the souls that wander the endless streets and alleys in search of something they'll never find.
Sublime thoughts creep in; as if awakening from a distant dream…did it really happen…. or is it a manifestation of your memories and thoughts from another time?
Amber, patchouli, rose and sandalwood blends with jasmine and citrus to create this mysterious scent.
If you wet shave you'll love this soap! Natural ingredients soften your beard and skin. This soap delivers a close shave without the irritation thanks to the addition of Bentonite Clay and Aloe Vera. The handy plastic wide mouth jar works well to build lather while on the road or at home. Choose form one of their three great scents or try them all!
Based in Cranbrook, in British Columbia's beautiful East Kootenays, Highland Springs is the passion of Mary and Chris Troniak.
At first glance, their story may sound like that of other family soap-making businesses - starting small, working out of their basement, and taking product to local markets where they built up a loyal, enthusiastic following. With business thriving, they decide to build a website and sell online, while still enjoying meeting the customers they've come to know face to face.
So, what's different about the Highland Spring story? Rather than being an enthusiast who turned her hobby into a living, Mary instead re-tuned her professional training into a passion. A qualified chemist, Mary now brings her expertise to creating beneficial blends of healthy, handmade soap and personal care products. It's not about looking for a nice fragrance - everything Mary creates, from base oils, focuses on what she knows gives the most benefit to the skin, and to the body.
3.0 oz
Made in Canada