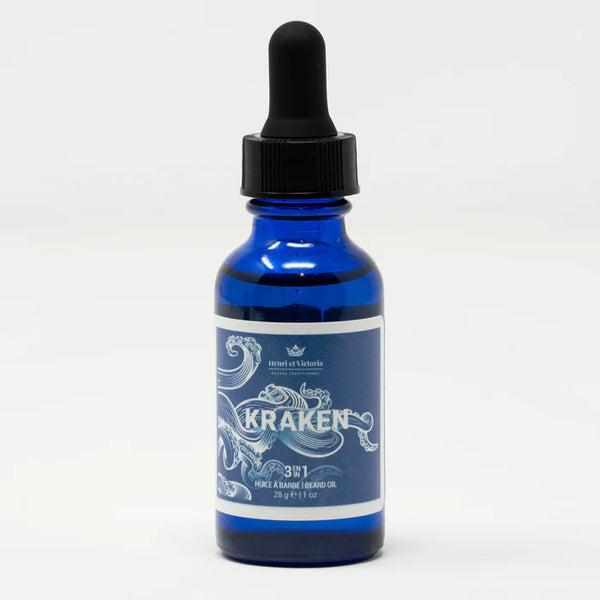 Henri et Victoria 3-in-1 Beard Oil- Kraken
With this beautiful scent, explore the mysterious Caribbean seas' depths! The woody and spicy aromas evoke lost ships while the lavender and jasmine notes float on top of the ocean giving green and sweet notes to the whole fragrance. The mythical mystery of this fabled beast, which sailors fear, is further enhanced by its freshness.

Top Notes- Citrus, Fruity, Bergamot
Middle Notes- Spice, Rose, Fresh Air
Bottom Notes- Woods, Lavender, Jasmine
Henri et Victoria's beard oil is crafted by hand with the finest oils.  Beard oil acts as a moisturizer that goes straight to the hair follicles and prevents hair from growing brittle, especially in cold, windy environments as these weather conditions cause the natural moisture of the beard area to wick. Hydration around this area helps prevent flaking, dandruff and skin dryness. This moisturization prevents general itchiness and irritation of the skin below the beard.
Beard oil also works below the surface of the skin by working as a grooming tool, making the beard itself more manageable, neat and smooth, especially when paired with a beard balm.  Beard oil also improves the way your beard looks by giving it a little shine. This makes the beard look healthier as well.
Use this oil as a pre-shave, post shave for irritation or for your beard.
Henri et Victoria was started by Claude Pilon in 2014.  Named after his children, this company has grown a loyal following of wet shaving enthusiasts.  How did this all begin? Claude received artisanal soap for his wedding anniversary.  He was then inspired to create his own.   His products have incredible scent profiles and wet shavers all over Canada are always eager to try his latest soaps. A biochemist and lawyer by training, Claude has a true passion for making these soaps and balms.  His company gives back to his community through various charities. 
Ingredients:
Argan Oil, Jojoba Oil, Coconut Oil, Raisin Seed Oil, Ricin Oil, Vitamin E, Fragrance
Made in Canada
28g