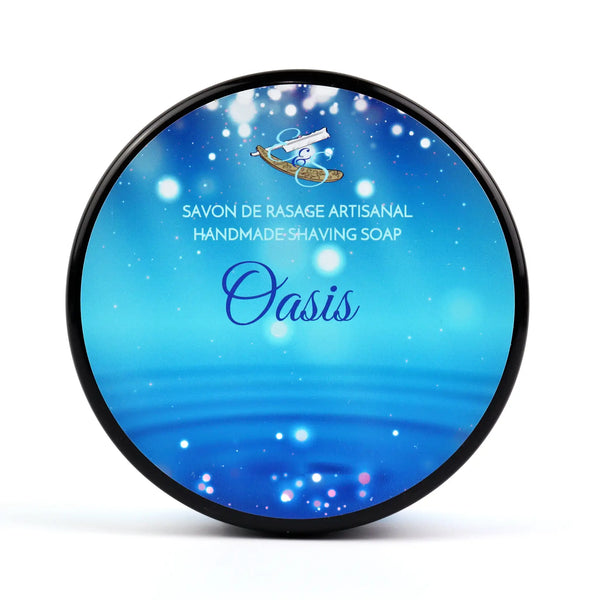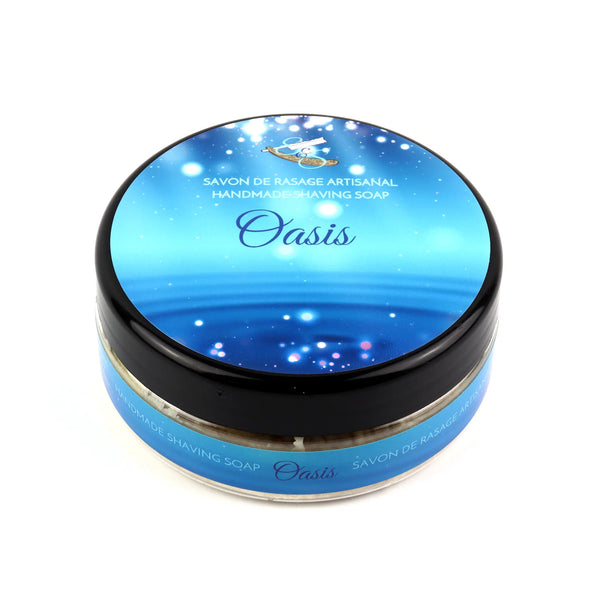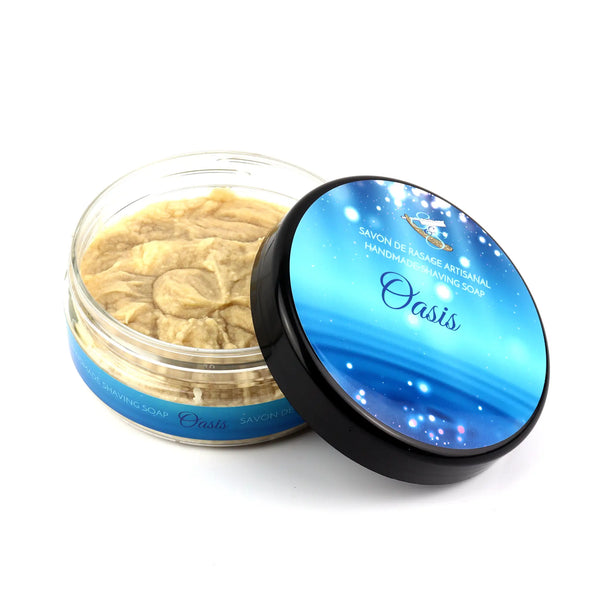 E&S Rasage Traditionnel Shave Soap "Oasis"
A  traditional shaving soap composed of tallow, shea butter, cocoa butter and lanolin rich in moisturizing active ingredients that promote skin elasticity, associated with Vitamin E and avocado oil.
The fresh  and aquatic notes of Oasis  will bring you freshness  and well-being  while leaving your skin delicately scented long after its application.
Fragrance with a fresh and dynamic start, with fruity notes of Cassis and Bergamot, 
then come to reveal marine and floral notes in the heart, woody notes as well as the Moss of Tree come to finish the olfactory sensation.
Fresh flight followed by a lively aquatic note.
Ideal fragrance for athletes and summer days.
Goat's  milk helps the skin fight against the effects of aging.

Thanks to its rich, creamy and persistent lather , this shaving soap will give you exceptional glide, protection and softness, in order to reduce razor burn.
The quality of the composition of their shaving soap will leave the skin of your face refreshed and supple. 
For best results they recommend two application methods:
1 - Take a quantity of shaving soap about the size of an almond with your finger and squeeze it into the bottom of a bowl. Soak your shaving brush with hot water and whip your foam in the bowl until you get the desired consistency.
2 - Soak your shaving brush with hot water, load it with shaving soap and lather on your face  until you get the desired consistency.
Still not sure?  Did you know we have a limited number of sample sets available for purchase.  Click this link to try a sample.  
Net weight: 145g
Ingredients:  Potassium Stearate, Caprae Lac, Glycerin, Sodium Stearate, Potassium Shea Butterate, Potassium Tallowate, Sodium Safflowerate, Potassium Castorate, Parfum, Persea Gratissima Oil, Sodium Tallowate, Cocos Nucifera Fruit Extract, Sodium Shea Butterate, Sodium Cocoa Butterate, Sodium Castorate , Potassium Cocoate, Silk Powder, Stearic Acid, Potassium Lanolate, Sodium Cocoate, Allantoin, Sodium Lanolate, Tocopherol, Adeps Bovis, Butyrospermum Parkii Butter, Ricinus Communis Seed Oil, Theobroma Cacao Seed Butter, Carthamus Tinctorius Seed Oil, Helianthus Annuus Seed Oil, Helianthus Annuus Seed Oil Cocos Nucifera Oil, Lanolin, Benzyl Salicylate, Citral, Coumarin, Limonene, Geraniol, Linalool.
E&S Rasage Traditionnel is a husband and wife team (Stephane and Estelle) focused on artisan shave soaps.  They live in a small village (population 750) named Schwenheim which is on the border of France and Germany.  Their scents are developed in partnership with an artisan perfumer from Grasse, the world capital of perfume.
Made in France