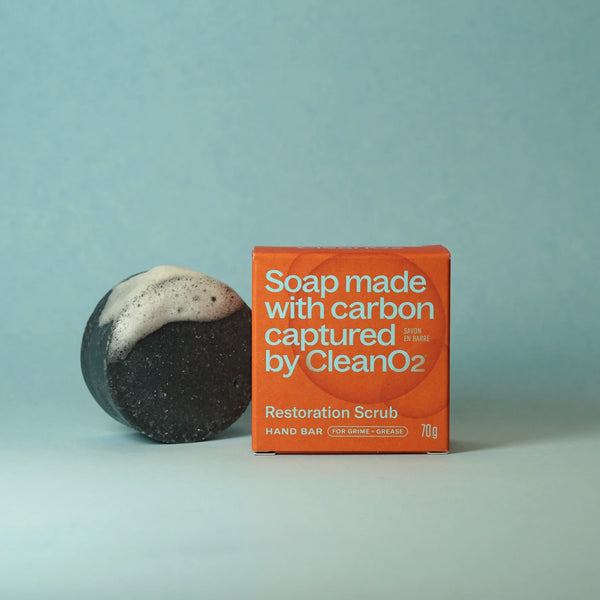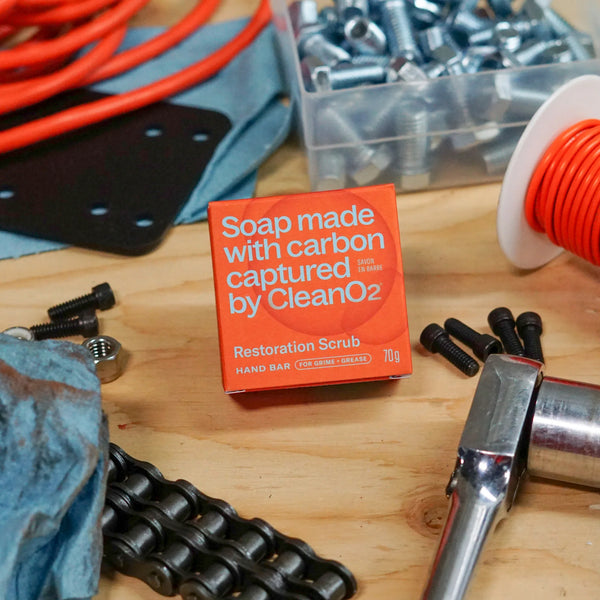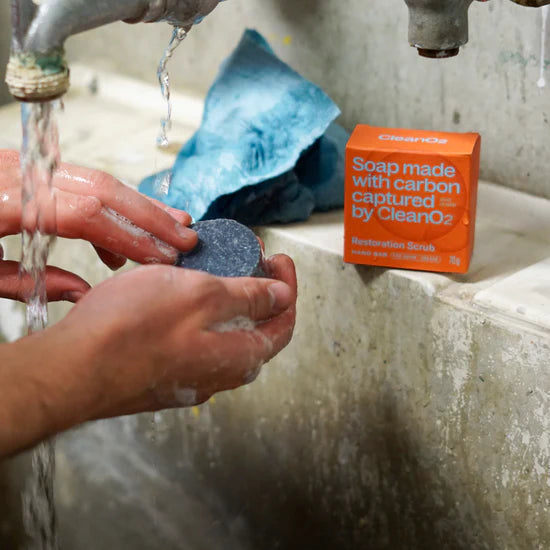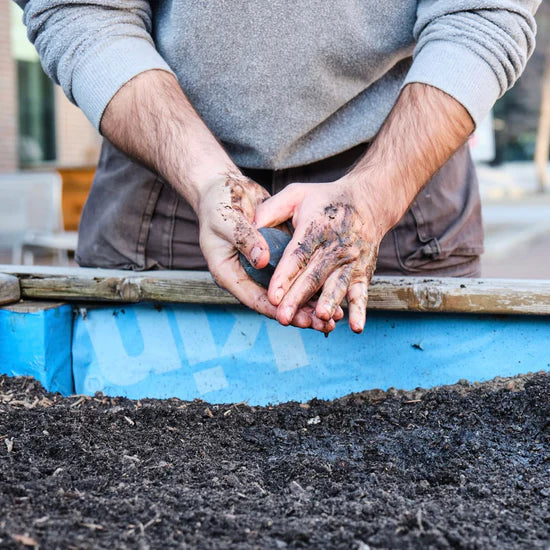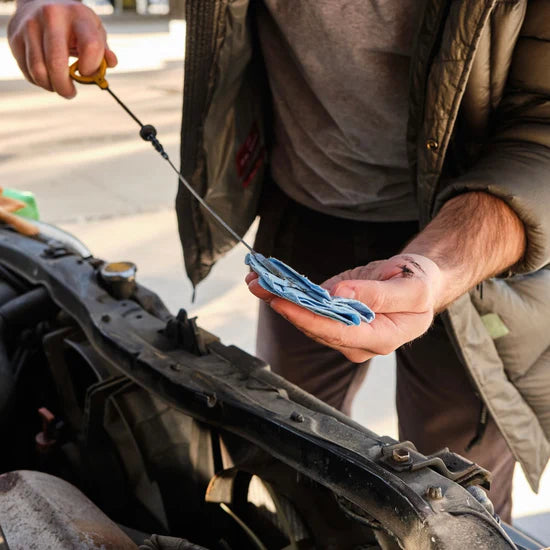 CleanO2 Body Bar- Restoration Scrub
For your toughest hand-washing challenges, this bar is loaded with coconut oil, pumice and charcoal that lift off dirt, grime, grease and even paints.
What Is Carbon Capture Soap?
 It turns out that captured carbon, in the form of pearl ash, can be added to soap formulations to create luxuriously silky, sudsy lather. Voila!, the world's first carbon-capture soap, made with natural ingredients, ingenuity and pearl ash. 
Scent Strength 3/5
Lather Ability 4/5
Exfoliating 5/5
Moisturizing 5/5
Super Fat & Pumice Soap
Not all of the coconut oil in this formulation turns into soap. The result: it stays as a "super fat." This means it works its way into grease and grime and lifts it away from your skin. Then the pumice scrubs it all away.
Soap That Scrubs and Moisturizes
The superfat coconut oil in the Restoration Scrub Hand Bar locks in moisture even while it lifts away the toughest grease and grime. If you're working with unpleasant odours, the activated charcoal in the bar helps eliminate the smell.
The DIY'ers Best Friend
The Restoration Scrub Hand Bar is The DIY'ers Best Friend. No matter how you get your hands dirty, it ensures you are neat and tidy come dinner time. This hand bar is ideal for painters, mechanics, gardeners and any other weekend warrior. We can't guarantee your project will be a success but when you're done your hands are sure to look fabulous.
Ingredients: Sodium cocoate (coconut oil), glycerin, sodium cocoyl isethionate, propanediol, Lavandula angustifolia (lavender) oil, d-limonene, pumice, potassium carbonate (captured carbon), bentonite, charcoal, Citrus sinensis (orange) oil, linalool*
*Naturally occurring in essential oil
About CLeanO2
The Founders — Jaeson Cardiff, Kathi Fischer and Scott Forgrave — invented a revolutionary device, CarbinX™, that captures carbon dioxide emissions from building heating systems and turns it into non-toxic pearl ash (potassium carbonate). 
As advocates of the circular economy (minimizing our burden on the environment by reducing, reusing and recycling materials), they weren't satisfied with simply capturing carbon. They wanted to upcycle it and put it to good use in new products. But what new products?  
The answer was soap and cleaning products. Simple and essential, these products are an easy way for customers to take action on climate change. It's about empowerment and the ability to make a positive step forward. What could be easier than lathering up with silky smooth CO2 sequestered suds?  




CleanO2 is the first company to turn carbon dioxide emissions into natural soap. They started in Calgary Alberta, and have since expanded to deploy CarbinX units across Canada, the United States and Japan. They've partnered with some of the country's largest companies who are committed to reducing carbon dioxide emissions. 

These astonishing CarbinX machines capture carbon dioxide from building heating systems — including boilers, water heaters and furnaces — that use natural gas. (Did you know that heating buildings accounts for 13% of overall carbon dioxide emissions in Canada, 12% of emissions in the U.S., and 7% of emissions globally?) Once installed, a typical CarbinX unit will have the same carbon-reducing impact as 300 trees!