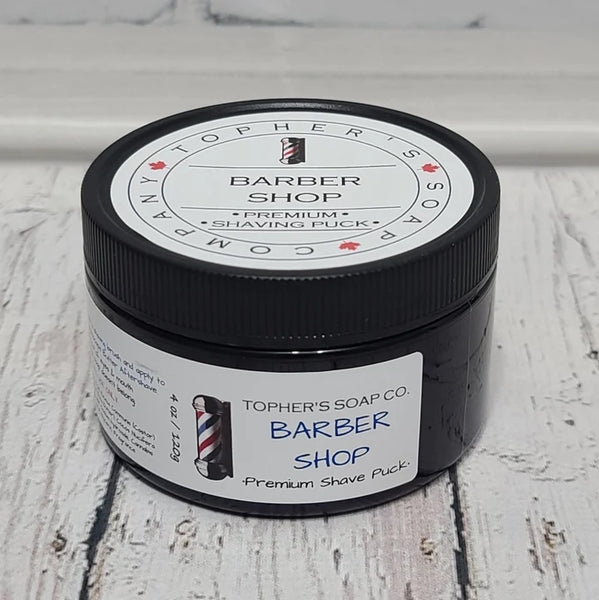 Topher's Beard and Soap Company- Barber Shop Shave Soap
A 4 ounce tub of chemical free, natural shave soap with thick long lasting lather and great razor glide.
Lightly scented, Bergamot and Basil are complemented by earthy notes of Oakmoss and White Patchouli to awaken your senses. 
Made with the finest oils and butters, this is a true old school shaving puck, not just a round bar of soap with added clay for slip. They've taken an old recipe and refined it. With lard, shea butter and coconut oil at its base they've added extra castor oil and vegetable glycerin for slip and hemp seed oil for skin conditioning.  This shave puck isn't drying like most commercial shaving creams on the market today and the stable lather offers more slip and skin conditioning then it's mass produced counterparts.
Best if paired with Tophers Manscape Butter as a cream aftershave.
While their products are mild enough for children and those with sensitive skin we do suggest to test on skin before use, as they may contain allergens.
Originally this shave soap was a puck (hard soap).  Over time they reformulated their recipe and now it's a softer shave soap (croap).  New labels will reflect this going forward.  
Ingredients: 
Water, 
Lard, 
Stearic Acid, 
Castor Seed Oil, 
Shea Butter, 
Coconut Oil, 
Glycerin, 
Hemp Seed Oil, 
Vitamin E, 
Essential Oils and/or Phthalate, Paraben + Sulfate free fragrance oils sourced in North America. 
Rosemary Extract.
120 grams/ 4 oz.
Made in Canada