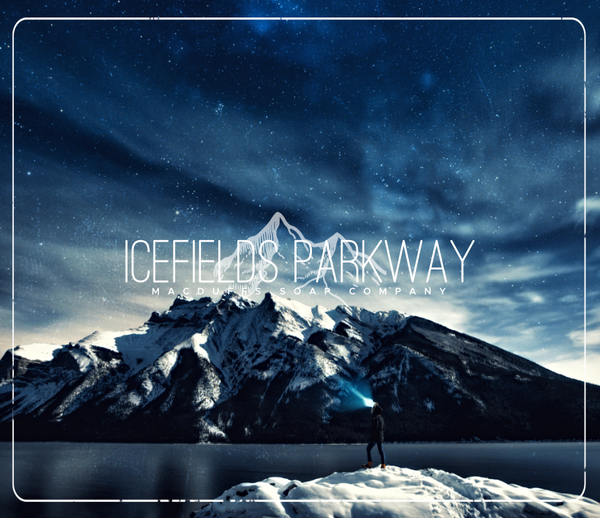 MacDuff's Soap Company Aftershave- Icefields Parkway
Notes: Eucalyptus Dives, Spearmint, Cornmint, Peppermint, Cedarwood, Eucalyptus Globulus
"Mountains are the beginning and the end of all natural scenery." - John Ruskin
Icefields Parkway is a highway that connects Jasper and Banff National Park and really is an unbelievable drive. Coming home from their BC trips, they always add a couple hours to an already long day and take this route (provided it's not closed due to excessive snowfall), exiting at the Saskatchewan River Crossing which sees a young North Saskatchewan river that they meet back up with again in Edmonton.
It's fitting then that this scent uses one of his favourite essential oils, Eucalytpus Dives-- otherwise known as "broad leaf peppermint." It takes the best elements of both peppermint and eucalyptus and makes for a sweet, *very* mild and almost buttery take. Since the name "Icefields" demands it, he added in some spearmint, cornmint, peppermint and just a touch of cedarwood and the more traditional eucalyptus most are already familiar with.
There is no menthol added to this splash, but since it's naturally occuring in some of the essential oils used you can expect to find some cooling effect.
About Their Splash
Alcohol free witch hazel and aloe vera based splash

Organic Jojoba oil and glycerine help the skin retain moisture (emollient).

Uses Olivem, which is a water-soluble fat with sebum recovering activities (sebum is the oily, waxy substance produced by your body's sebaceous glands). Olivem has strong emolliency and lubricant properties that offers a distinctive skin smoothness and long-term moisturizing effects.

DL-Panthenol, or Vitamin B5 is used to rehydrate dry, damaged skin

Hydrolyzed Oat Protein* and silk peptides enhance the moisturizing properties of their splash and imparts a velvet-like smoothness after drying.

Allantoin is widely used in cosmetic, dermatological and pharmaceutical formulations for its soothing and anti-irritating properties. Allantoin stimulates healthy, normal tissue formation even at low concentrations.

Grapefruit Seed Extract and Vitamin E are antioxidants that extend the life of our splash, but also have beneficial moisturizing properties.

White Willow Bark is an astringent.

All of their fragrance oils are paraben and phthalate free.

As this is a water based product, they must use preservative to keep their aftershave splash free from bacteria and mould.
*The manufacturer states that the product is gluten free however because it is made from the proprietary hydrolysis of oats, there may be traces of gluten remaining. The manufacturer has tested several lots and all contained less than 20ppm gluten.
Ingredients
Witch Hazel, Aloe Vera Juice, Glycerine, Polysorbate 20 (Emulsifier), Olive Oil PEG-7 Esters (Ecocert Emulsifier), Organic Jojoba, Preservative (Propylene Glycol (and) Diazolidinyl Urea (and) Iodopropynyl Butylcarbamate), White Willow Bark, Sodium Lactate, Grapefruit Seed Extract, Silk, Hydrolyzed Oat Protein, Vitamin E, Allantoin, Vitamin B5 (DL-Panthenol), Paraben + Phthalate Free Fragrance Oil, Essential Oils
Made in Canada