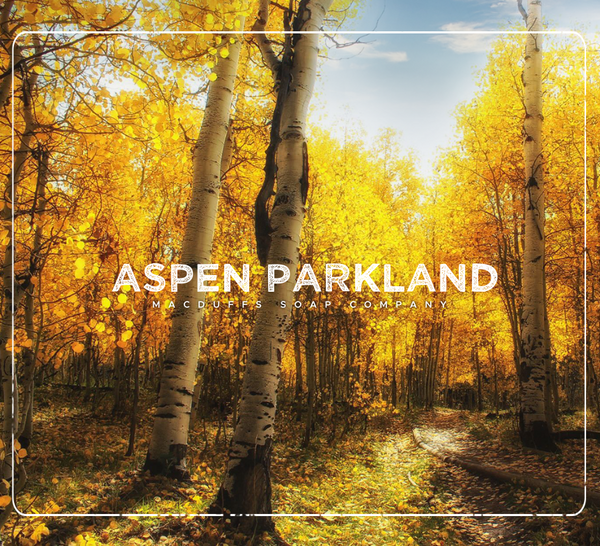 MacDuff's Soap Company Aftershave- Aspen Parkland (Unscented)
"To do a dull thing with style, now that's what I call art" - Charles Bukowski
Why "Aspen Parklands" for our unscented products?
Alberta is full of impressive landscapes that have inspired our line of scents--from the deep yellow prairie and foothills in the south, the Rockies in the west and then the Badlands in the east. With all of these just a short drive away, it's easy to take for granted what surrounds us everyday in our own hometown of Edmonton. Edmonton is situated in the "aspen parkland" biome that makes up a good portion of central Alberta. River valleys, poplars, spruce and prairie grasses on a generally flat landscape might not seem exciting in comparison to more dramatic vistas, but there is beauty in it's supposed plainness and so deserves it's place in their Alberta series.
About Their Splash
Alcohol free witch hazel and aloe vera based splash

Organic Jojoba oil and glycerine help the skin retain moisture (emollient).

Uses Olivem, which is a water-soluble fat with sebum recovering activities (sebum is the oily, waxy substance produced by your body's sebaceous glands). Olivem has strong emolliency and lubricant properties that offers a distinctive skin smoothness and long-term moisturizing effects.

DL-Panthenol, or Vitamin B5 is used to rehydrate dry, damaged skin

Hydrolyzed Oat Protein* and silk peptides enhance the moisturizing properties of their splash and imparts a velvet-like smoothness after drying.

Allantoin is widely used in cosmetic, dermatological and pharmaceutical formulations for its soothing and anti-irritating properties. Allantoin stimulates healthy, normal tissue formation even at low concentrations.

Grapefruit Seed Extract and Vitamin E are antioxidants that extend the life of our splash, but also have beneficial moisturizing properties.

White Willow Bark is an astringent.

All of their fragrance oils are paraben and phthalate free.

As this is a water based product, they must use preservative to keep their aftershave splash free from bacteria and mould.
*The manufacturer states that the product is gluten free however because it is made from the proprietary hydrolysis of oats, there may be traces of gluten remaining. The manufacturer has tested several lots and all contained less than 20ppm gluten.
Ingredients
Witch Hazel, Aloe Vera Juice, Glycerine, Polysorbate 20 (Emulsifier), Olive Oil PEG-7 Esters (Ecocert Emulsifier), Organic Jojoba, Preservative (Propylene Glycol (and) Diazolidinyl Urea (and) Iodopropynyl Butylcarbamate), White Willow Bark, Sodium Lactate, Grapefruit Seed Extract, Silk, Hydrolyzed Oat Protein, Vitamin E, Allantoin, Vitamin B5 (DL-Panthenol), Paraben + Phthalate Free Fragrance Oil, Essential Oils
Made in Canada