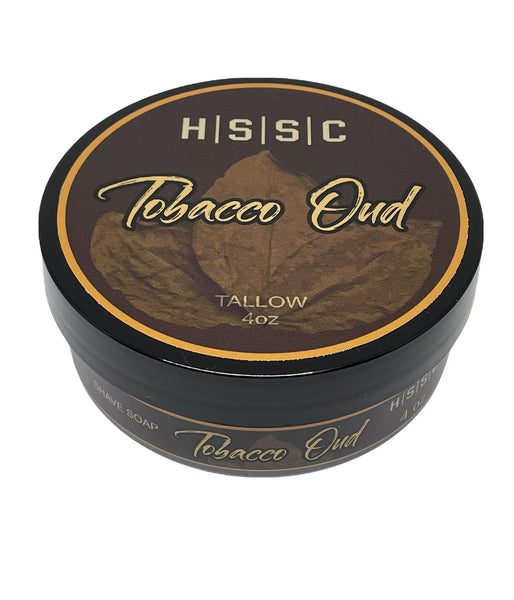 Highland Springs Tobacco Oud Shave Soap
Tobacco and Oud. Two of Chris and Mary's favourite scents combined with Spices, Whiskey and Sandalwood. They have often wanted to be able to add Oud to their scent collection but after experimenting with it they found that they couldn't find a combination they really liked. Havana Vieja, their original tobacco scent is a nice tobacco scent that has a sweeter finish and Chris and Mary wanted something with a darker, earthier presence. They  feel we've created that with our latest offering.
Ingredients:

Beef Tallow, Stearic Acid, Butyrospermum Parkii (Shea Butter), Ricinus Communis (Castor) Seed Oil, Glycerin, Sodium Lactate, Parfum, Hydrolyzed Silk Peptides (Silk Peptide), Tocopherol.
Discontinue use if irritation occurs.
4 oz
About Highland Springs Soap Co.
Based in Cranbrook, in British Columbia's beautiful East Kootenays, Highland Springs is the passion of Mary and Chris Troniak.
At first glance, their story may sound like that of other family soap-making businesses - starting small, working out of their basement, and taking product to local markets where they built up a loyal, enthusiastic following. With business thriving, they decide to build a website and sell online, while still enjoying meeting the customers they've come to know face to face.
So, what's different about the Highland Spring story? Rather than being an enthusiast who turned her hobby into a living, Mary instead re-tuned her professional training into a passion. A qualified chemist, Mary now brings her expertise to creating beneficial blends of healthy, handmade soap and personal care products. It's not about looking for a nice fragrance - everything Mary creates, from base oils, focuses on what she knows gives the most benefit to the skin, and to the body.
Made in Canada