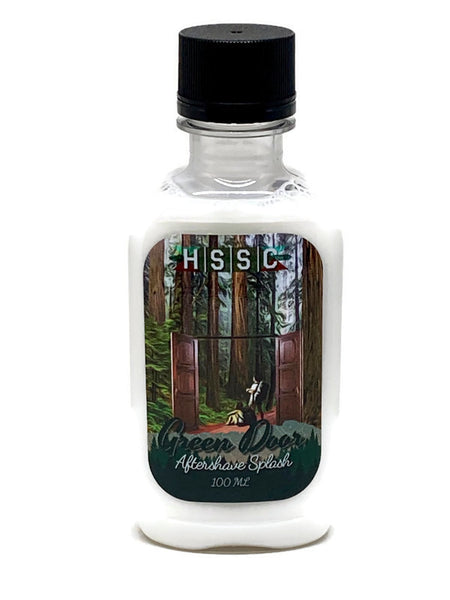 Highland Springs Soap Co. Aftershave Splash "Green Door"
For those who do not like the "sting" that comes with an alcohol based splash. Witch Hazel is the main ingredient in these splashes. Known for its anti-inflammatory and its ability to reduce skin irritation, its perfect as an aftershave splash. Combined with a healthy dose of Aloe Vera this splash provides antioxidant and healing properties to leave your skin soft, supple and smooth.
Green Door
Green Door was inspired by Pacific Rim National Park on Canada's beautiful Vancouver Island.  The park is a sanctuary for beautiful, giant cedar.  Walking through the cathedral brings scents of Cedar, Fern, and moss along with many earthy scents.  Chris and Mary used this inspiration to create the base scent but struggled with it for quite some time as they always felt it was "missing something".  After experimenting for several months they decided to depart from the traditional "Fougere" scent and added Lavender and Yuzu to round out and freshen the woodsy scent.  
Scent notes:
Cedarwood, Oakmoss, Teakwood, Fern, Lavender, Yuzu, Vetiver
Ingredients:
Hamamelis Virginiana (Witch Hazel) Extract, Aqua (Water), Aloe Barbadensis (Aloe Vera) leaf juice, Polysorbate 20, Parfum, Glycerin, Panthenol (Vitamin B5), Hydrolized Silk Peptide (Silk Peptide), Hydroplized Rice Protein (Rice Protein), Tocopherol (Vitamin E), Liquid Germall Plus (Preservative).
100 ml
Based in Cranbrook, in British Columbia's beautiful East Kootenays, Highland Springs is the passion of Mary and Chris Troniak.
At first glance, their story may sound like that of other family soap-making businesses - starting small, working out of their basement, and taking product to local markets where they built up a loyal, enthusiastic following. With business thriving, they decide to build a website and sell online, while still enjoying meeting the customers they've come to know face to face.
So, what's different about the Highland Spring story? Rather than being an enthusiast who turned her hobby into a living, Mary instead re-tuned her professional training into a passion. A qualified chemist, Mary now brings her expertise to creating beneficial blends of healthy, handmade soap and personal care products. It's not about looking for a nice fragrance - everything Mary creates, from base oils, focuses on what she knows gives the most benefit to the skin, and to the body.
Made in Canada