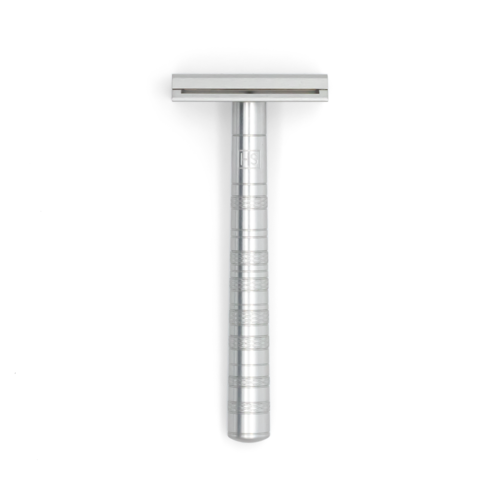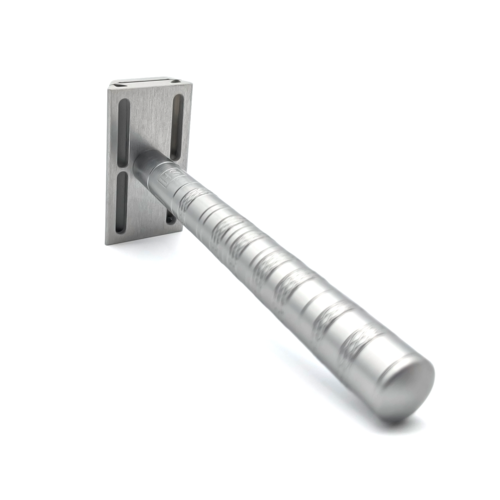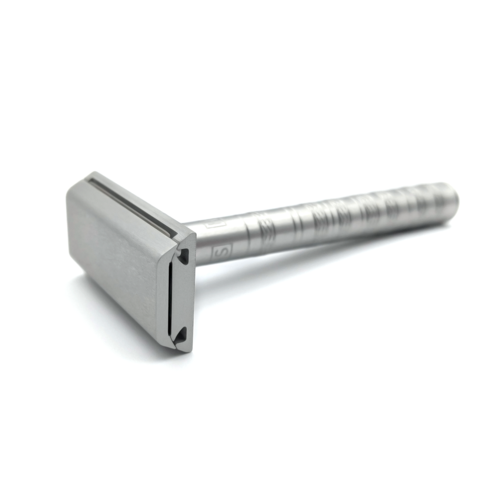 Henson AL13 Razor Aircraft Aluminum (Mild)
The Henson AL13 puts an end to shaving irritation and cuts, while also making your skin feel comfortable and smooth. This was created to give you a whole new shaving experience unlike any other. Your skin will feel amazing after using this razor.
Captain's Log- I own a Henson razor and I think this razor is an excellent razor for someone first getting into traditional wet shaving or someone with sensitive skin.  It is a milder razor.  
Precision - Eliminate the Chatter.
Henson razors are manufactured with the same Aerospace processes and in the same facility that produces components for the Mars Rover, International Space station, and production style work on Low Earth Orbit Satellites. This razor is designed and manufactured with extreme precision in mind.
While most of their competition builds in allowance for casting and painting, Henson Shaving required and achieved remarkable less than five ten-thousandth of an inch (0.0005) tolerance on critical dimensions through the machining and anodizing process.
This means your blade sits straight every time. The blade support creates the most accurate blade exposure on the market. Accurate blade exposure combined with our unique design means no vibration in the blade (or chatter). Chatter is what causes razor burn and in-grown hairs.
What this means for you is a noticeably better shave that just feels different. It truly is one of a kind.
Value - Don't Spend. Invest.
Whether you are currently purchasing disposable razors, razor cartridges at the drug store, or have signed up for a subscription program, investing in a Henson Al13 will have you seeing cost savings within the first year. The average user will get a month's worth of shaving from the 5pk of blades included. Additional blades can be purchased from anyone and it works out to about a dollar per month.
About Henson Shaving
Named after an engineer, William Samuel Henson, a pre-Wright Brothers aviation engineer and inventor. Henson invented the modern form of the razor, the 'T' shaped safety razor, and patented it in 1847. While a major improvement on the previous form of the safety razor, additional improvement was needed to make safety razors common and useable for everyone.
In 1901, Gillette combined Henson's T-shaped safety razor with disposable blades, and produced the modern razor. Since the early 1900's, the Safety Razor has remained relatively unchanged and the market has more recently become flooded with manufacturers wanting to jump on the eco-trend, with nearly all sending their manufacturing overseas.
As the individuals (who would soon end up starting Henson Shaving) started looking at the options available to partner with manufacturing, the lack of precision with "standard approaches" to manufacturing became frustratingly evident. Most Safety Razors are cast metal then chromed or painted with sloppy tolerances built into the design. Casting and coating thicknesses cannot typically be accurately predicted, so wiggle room is built into the design... but "wiggle room" is not something you want in a razor as it makes for a poor shave. In seeing this lack of precision with several "top rated" razors, the team at Henson Shaving sought out a solution.
To get the precision and perfection they desired in their razor, they sought out and partnered with one of Canada's top Aerospace Manufacturers who had enough precision and skill to build structural components for the Mars Rover, International Space Station, and low earth satellite (LEO) programs.
As it turns out, making an extremely precise razor is certainly possible, if you want to spend hundreds of dollars. The new challenge was to bring Aerospace quality to a razor, at an affordable price. Mission accomplished! Because each component of the Henson razor is precision machined, they are able to achieve extremely tight tolerances in a production environment to bring an incredibly high quality and low cost razor, to you.
Made in Canada