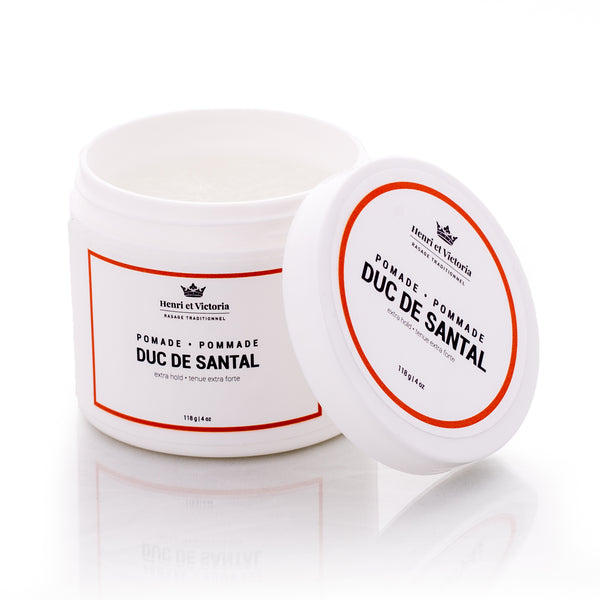 Henri et Victoria Pomade- Duc de Santal
Sit back and savour the musky, woody aromas that form part of this warm and comforting scent. Sophistication in every sense of the word, Duc de Santal defines notability and a sense of good taste and high-class styling of the upper echelons of society.
Sandalwood, Spicy Nutmeg, Tree Moss, Lemon Citrus, and Exotic Patchouli Oil.
A classic pomade that gives strong all day hold with easy application. The water based formula allows for easy rinsing and no build up in the hair. A great product for most hair types and styles.
Henri et Victoria was started by Claude Pilon in 2014.  Named after his children, this company has grown a loyal following of wet shaving enthusiasts.  How did this all begin?  Claude received artisanal soap for his wedding anniversary.  He was then inspired to create his own.   His products have incredible scent profiles and wet shavers all over Canada are always eager to try his latest soaps. A biochemist and lawyer by training, Claude has a true passion for making these soaps and balms.  His company gives back to his community through various charities. 
Ingredients
Water, Ceteareth 25, Glycerin, PEG 40, Propylene Glycol, Polysorbate, PVP K30, Phenoxyethanol, parfum.
Made in Canada