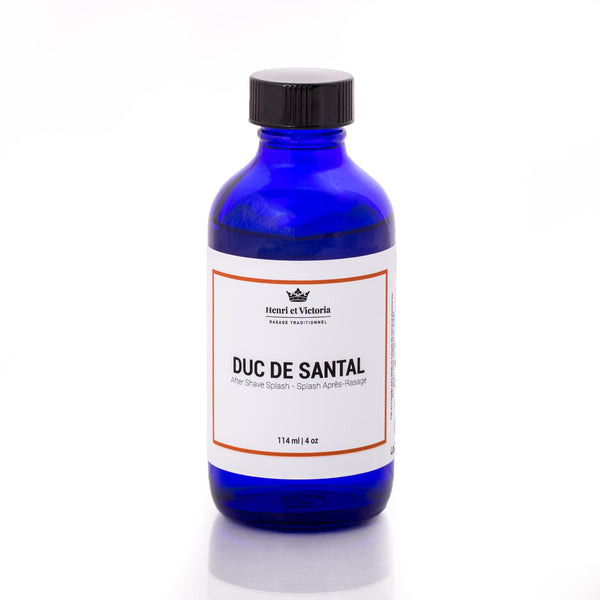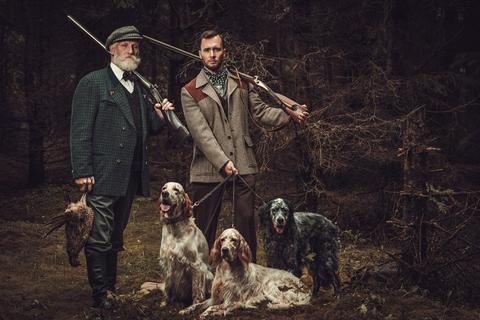 Henri et Victoria After Shave Splash- Duc de Santal
Henri et Victoria handcrafted aftershave splashes are made in small batches using only the best ingredients. Designed to tighten, moisturize, and soothe your skin.  The initial alcohol heat plus the cooling effect of menthol in the formula truly completes and satisfies the shave.
A warm,comforting,gentle cologne scent.  With a musky, dry woody complex with soothing Sandalwood and spicy nutmeg, oregano, clove, coriander oil.  A top note accord with intoxicating herbs of basil, fennel and sage oils. And a final touch of lemon citrus, tree moss and exotic patchouli oil.
A sophisticated scent inspired by nobility, and a sense of good taste.
It contains various extracts and ingredients that help to nourish your skin.  No water is added directly, as there is water in the Witch Hazel and Aloe Leaf Juice Extract.  This is to maximize the benefit without watering down the final product. 
Henri et Victoria was started by Claude Pilon in 2014.  Named after his children, this company has grown a loyal following of wet shaving enthusiasts.  How did this all begin?  Claude received artisanal soap for his wedding anniversary.  He was then inspired to create his own.  
His products have incredible scent profiles and wet shavers all over Canada are always eager to try his latest soaps. A biochemist and lawyer by training, Claude has a true passion for making these soaps and balms.  His company gives back to his community through various charities. 
Ingredients:
Denatured Alcohol, Witch Hazel Extract, Aloe Barbadensis Leaf Juice, Dipropylene Glycol, Hydroxyethyl Urea, Parfum, Menthol.
114 ML / 4 OZ
Made In Canada
Courtesy of Henri et Victoria
US Customers- Due to the alcohol content, we are unable to ship this product to you.