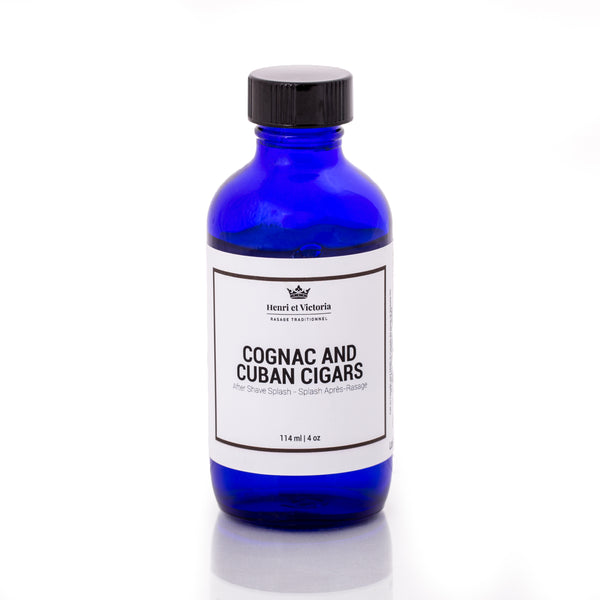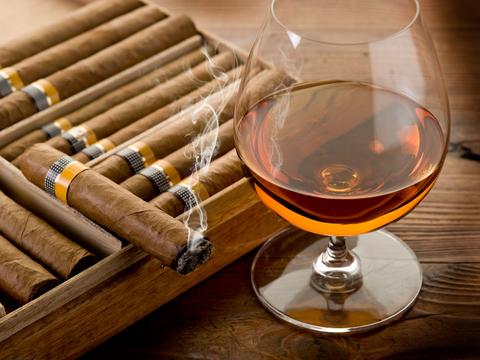 Henri et Victoria After Shave Splash - Cognac and Cuban Cigars
Due to Alcohol content- We CANNOT ship outside of Canada
Henri et Victoria handcrafted aftershave splashes are made in small batches using only the best ingredients. Designed to tighten, moisturize, and soothe your skin. 
This aftershave splash smells like an afternoon game of poker sitting around smoking cigars and drinking a fine aged cognac. Definitive masculine smell, gentlemen's club. Cedarwood, fresh leather, zesty lemon, cognac and spicy tobacco. The scent of the soap is rich and heady presenting a heavenly aromatic combination of a sweeter cognac and a Havana cigar aging room.
The cigar aroma is like being the first person in the day to step into an aging room or cracking open a new box or a "Tupperdor" of aging Cuban cigars.The scent of this Cognac and Cuban Cigar Aftershave is very unique and intoxicating. The cigar smokiness is in there, but it is a bit subtle and doesn't overpower or dominate.  
It contains various extracts and ingredients that help to nourish your skin.  No water is added directly, as there is water in the Witch Hazel and Aloe Leaf Juice Extract.  This is to maximize the benefit without watering down the final product.
 Henri et Victoria was started by Claude Pilon in 2014.  Named after his children, this company has grown a loyal following of wet shaving enthusiasts.  How did this all begin?  Claude received artisanal soap for his wedding anniversary.  He was then inspired to create his own.  
His products have incredible scent profiles and wet shavers all over Canada are always eager to try his latest soaps. A biochemist and lawyer by training, Claude has a true passion for making these soaps and balms.  His company gives back to his community through various charities. 
Courtesy of Henri et Victoria
Ingredients:
Denatured Alcohol, Witch Hazel Extract, Aloe Barbadensis Leaf Juice, Dipropylene Glycol, Hydroxyethyl Urea, Parfum, Menthol.
114 ml / Made in Canada