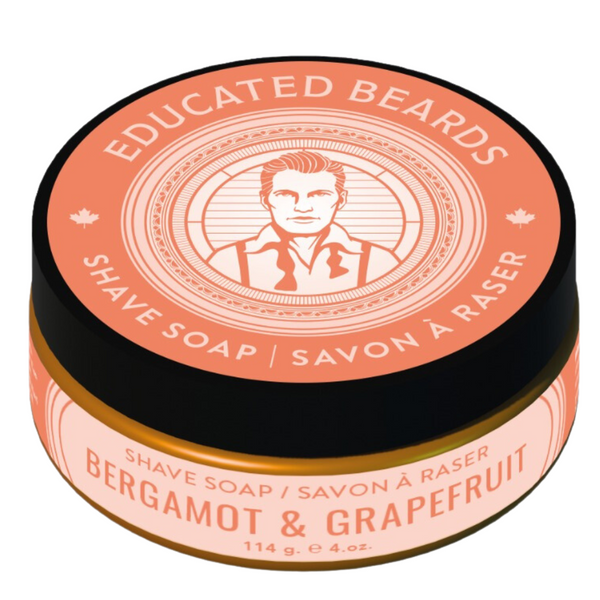 Educated Beards Shave Soap- Bergamot and Grapefruit
Educated Beards Shave Soap Bergamot and Grapefruit
Immerse yourself in the refreshing blend of Bergamot Grapefruit, while enjoying the benefits of this shave soap's humectant, anti-inflammatory, enriching, circulation-boosting, and natural astringent properties. Take charge of your grooming routine and experience a truly exceptional shave.
Targeted Solutions For
Intense hydration
Combats irritation 
Reactive skin
Razor bump prompt skin
Razor Burns
BENEFITS
Perfect shave, amazing glide, hydrated skin
SKIN TYPE
THE BRASS TACKS
24 hours of moisture
100% Certified Organic
non-comedogenic
hand-crafted in small batches for freshness
Instructions: Prepare your skin and equipment. Soak your shaving brush in warm water. Create lather by swirling brush around the shave soap. Apply lather to your face. Shave in the direction of hair growth, rinsing the razor frequently. Rinse your face with cool water. Clean your equipment and store shave soap in a cool, dry place.


Ingredients:  Aqua (Water), Stearic Acid, Tallow, Potassium Hydroxide, Persea Gratissima (Avocado) Oil, Ricinus Communis (Castor) Seed Oil, Sodium Hydroxide, Garcinia Indica Seed Butter, Cocos Nucifera (Coconut) Oil, Butyrospermum Parkii (Shea Butter) Fruit, Glycerin, Citrus Aurantium Bergamia (Bergamot) Fruit Oil, Citrus Paradisi (Grapefruit) Peel Oil, Tocopherol, Powder Silk
114g
Made in Canada