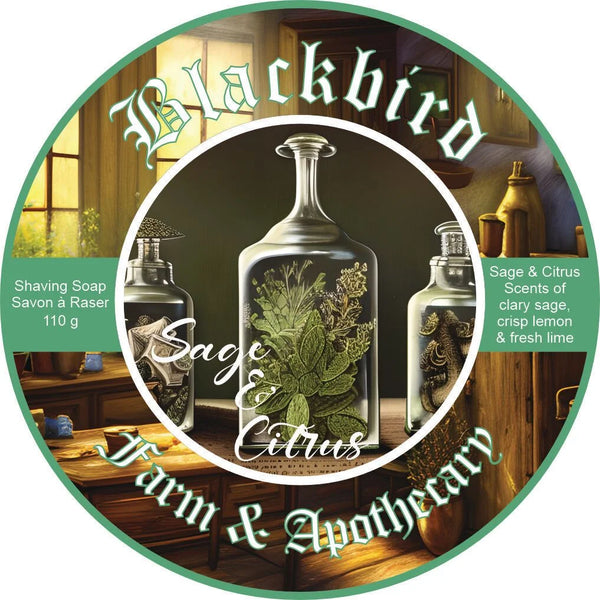 Blackbird Farm and Apothecary Shave Soap- Sage and Citrus
Blackbird Farm and Apothecary shave soap offers a luxurious shave experience, creating a thick, creamy lather that lifts facial hair for a close and clean shave. 
Sage & Citrus shave soap features a fragrant blend of clary sage, lemon, and lime for a zesty aroma.
Matthew and Tammy moved to Leduc County in 2016 and started Blackbird Farm & Apothecary in the fall of 2018.  Tammy's education and experience as a nurse was the driving force behind their personal care products and the very beginning of this adventure. Wanting to have safe, effective products to use on a daily basis was really important and lead to the testing and development of their personal care product line.

Matthew's education in Forestry has always drawn and grounded him in nature. His work experience in the cabinet industry has honed his skills and love of creative design and working with his hands. This creativity is the foundation from which stems the custom woodworking and laser engraving- another key component of their business.

Together as a team they love to spend their time together working on all sorts of projects. From working in the garden, growing garlic, veggies and holistic plants. To being in the shop making shaving brushes to complement their shaving soaps. The products they make are all things they love to use themselves and share with  family and friends.
Ingredients: Sorbitol, Propylene Glycol, Sodium Laureth Sulfate, Stearic Acid, Lauric Acid, Aqua, Sodium hydroxide, Cocos Nucifera, Argania Spinosa kernel oil, Butyrospermum Parkii, Protein Hydrolyzates, Mel, Bambusa Vulgaris Extraxt, Helianthus Annuus Seed Oil, Aloe Barbadensis Leaf juice, Chondrus Crispus Extract, Althea Pffinalis Exract, Kaolin, Parfum. 
Featured Ingredients: Aloe, Argan Oil, Calendula Extract, Carrageenan Extract, Honey, Marshmallow Extract, Non-GMO & Sustainable Palm, Shea Butter, Silk Protein, Sunflower Extract
110g
Made in Canada